Master-class. Pulse Management – how to manage organization
The master class complements the report on the method of managing the project organization "Method Pulse" with practical exercises: setting goals for the project, building a project plan.
At the master class we will examine in detail some of the Rules of the Method, why they are so, which is the basis.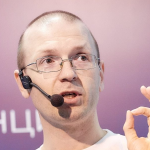 Alexey Vasilyev
Founder, PulseManagement.org
TOC Consultant, Agile / XP coach, specializes in the application of the Theory of Constraints for project management and IT projects. Coordinator of the St. Petersburg Club of IT Project Managers.
More than 20 years in IT. As system architect, team lead, project manager. I've rollup Agile / Extreme Programming since when it was not yet a business (since 2002).
I've consolidated my experience and analysis of current project management methodologies in the management methodology of the project organization in the face of uncertainty and limited resources of PulseManagement.org and the BIPULSE decision support system.
Actively speaking since 2015: SECR, AnalystDays, LAF, ISDEF, RIT++, InfoStart Education Event