Intercultural communication. Instructions for use
Project/Product Management
Business
Accepted
Have you ever wondered why employees working in foreign companies complain about some problems at work that are not even mentioned by their Russian colleagues? For example, "I don't like our foreign customer, he is unsociable person, neither smiles nor makes a joke while talking to us!", "A new boss from Europe is a robot! Did not let me go home yesterday afternoon, but I really needed to visit local tax office! "," I invited a new colleague from Germany to a restaurant to discuss upcoming project, but he refused! He said that all working issues must be solved at work! I try to approach him, assuming he is a normal guy, but he behaves very strange. Weird…
Moreover, such a misunderstanding with foreign colleagues, primarily Western ones, discourages any desire for further cooperation and such colleague simply fall into the imaginable category of "mutants", with whom it is better not to have any business. It should be noted that foreign colleagues also often have difficulty understanding our behavior and actions.
If such things happened once to you or your friends, then this lecture is for you. On this lecture I will tell why we sometimes cannot find the cause and meaning of foreign colleagues' behavior and why many of us find them so "strange".
This story will be based on the research of leading psychologists and cultural scientists and my more than 15 years of experience in IT and 10 years of experience in foreign companies.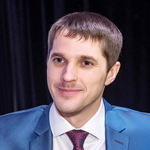 Alexey Kuksenok
Project manager, DataArt, ITBizRadio, Softpower.pro