Master-class. ZOO or how several teams can organize one product development effectively
Project/Product Management
Accepted
Several teams creating common product – this is a universal reality. How to make this work effective? What aspects need to be taken into account, what should be agreed in advance in order to finally get a general result?
Answers to these questions will be found by the participants of the Zoo workshop. They would get real experience of common product development and try to address real challenges.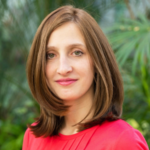 Svetlana Bolsunovskaia
Scrum Master, Agile Coach, T-Systems
I started my career 8 years ago with the classic project management, worked as PM for several years, Then I joined company Agile transformation ( from Waterfall to SAFe) as a Scrum Master. Since that time, I've been working with the teams as a Scrum Master(I worked together with 10 teams from huge IT companies, such as Motorola, Arcadia, T-systems.
In T-Systems company I'm acting as Agile Coach and internal trainer for several topics: Agile / Scrum, SAFe, Scrum Mastering. I really enjoy business simulations and games, so I populate and conduct such activities as LEGO for Scrum, Nexus ZOO, SAFe CIty.
I regularly spoke at different conferences such as SECR, Agile Days, Agile Kitchen.