Knowledge Management in IT. Overview of goals, objections and knowledge worker's tools
Knowledge Management
Accepted
Talking a lot with huge amount of IT specialists of different companies (including my current one), I think a lot that just extremely small number of ITs understand clearly what is Knowledge Management, which benefits is grants to a company, why is it a good idea to invest in it.
It means that the problem of KM projects realization in a majority of cases is not related to any rational reasons but a lack of understanding of basics. As a section lead, I'd like to show a high-level picture of Knowledge Management in Russian IT in order to provide IT community (especially, managers, CTOs, team leads and other decision-makers) with fundamental information of this area of business.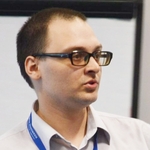 Rodion Nagornov
Training & Certification Group Manager, Kaspersky
Rodion Nagornov graduated from Bauman Moscow State Technical University with the specialization "Computer Aided Design". He has been working at Kaspersky Lab since 2011, and in corporate education since 2013. During this time, he has played an instrumental role in the creation of an internal corporate knowledge base for the company's various products and technologies. Rodion has also helped develop a training and certification system to help employees deepen their knowledge of the company's products. Since spring 2016, he has spoken at various conferences and events dedicated to e-learning and corporate knowledge management.