IoT: Why do you need it
AI, Intelligent Apps/Things
IoT
Accepted
I'll tell you about the importance of IoT, both for developers, everyman and business owners. Why you should pay attention to this area. I'll also tell about my experience in IoT and why we decided to take up this area.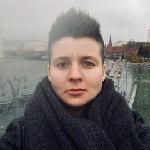 Katryn Dmitruk
Lead Software Developer, First Line Software
Speaker in the areas of frontend-development, AR/VR, time-management. Member of Russian hackathons, winner of First Line Software in 2019 with a project in the field of IoT.
Interview for SECR participants