IBM Watson in the epicenter of developers attention
AI, Intelligent Apps/Things
ENG
Accepted
– How can Watson help developers to quickly build cognitive apps?
– How to to build your own custom AI models
– Want to see a demo? We will show how it works with Visual Recognition.
– A Toolkit for developers to get started with Watson today!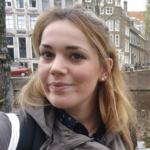 Clemence Lebrun
Cloud Developer Advocate, IBM
Clemence is in charge of supporting developers using new and innovative IBM technology such as the IBM Watson & Cloud Platform. She works with corporate developers, startups and universities across Europe and help them to build demos and prototypes.
She is passionate about Internet of Things, Mobile & Web development, wearable technology and AI.
Clemence likes to share her knowledge and also learn new technologies everyday through hands-On labs workshops, meetups, hackathons and developer conferences in Europe. She is also very present on social networks and developer communities.