Experience of Designing Complex Corporate User Interface
What we did, while we'v got a task to design a complex information system? I'll tell how we solve problem of combining different areas of work in a single UI. How to save transition logic between different areas and save their intuitive relationship, especially for not familiar with IT users.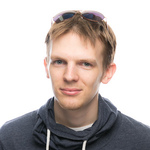 Roman Spiridonov
Project Manager, Business Information System «NARABOTE»
IT professional with more than 10 years total experience. I worked on different positions: from software engineer to account manager and project manager. Took part in designing and developing a few information systems as a System Architect and UX Consultant. Author of web development video lessons and IT reporter.
Assistant in SPbEEI "LETI", teaching programming and Maintenance of Software.
Currently, I'm developing Business Information System «NARABOTE» from august 2018.