D2PL programming language and compiler for a clustered massively parallel virtual machine
Programming / Tools
Software Architecture
Accepted
Computer science has replenished with a new concept – cyber-physical systems (CFS). CFS are systems that fill the niche between mechanical robots, on the one hand, and conventional software systems, on the other. Unlike mechanical robots capable of autonomously performing mechanical work, CFS systems autonomously perform the tasks of control, monitoring, control and accounting, interacting with the external environment using cameras, sensors and electric drives.
The speaker will tell about his own experience of robotization of typical processes in production with the help of a new type of systems, offer his vision of the evolution of information systems architectures, share information about how to develop your own programming language and compiler for a clustered massively parallel virtual machine.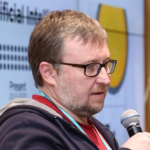 Alexandre Prozoroff
MIPT
CTO, RTLab
He graduated from the Computer Engineering and Systems Department of MIREA and today he works in the field of "computers, complexes, systems and networks", having gone from the developer of a cryptographic gateway of the banking system of Kazakhstan to the founder of companies conducting scientific and practical work on the development of medical devices and software components for the Internet of Things, "Smart City", "Unmanned Transport". Took part in projects such as the National Cloud Platform, the Regional Segment of the Unified State Health Information System, the Vulkan Global Accounting and Gaming System, etc. Now he is engaged in research projects of the Laboratory of Machine Intelligence of the Moscow Institute of Physics and Technology, the Center for Space Medicine of the IMBP RAS and the Russian Science Foundation.