Catching business value from the test cases ocean. How BA helps QA to make light and valuable test suites
Software Testing
System Analysis / Requirements
Accepted
In this presentation we will discuss the approach, when BA help QA specialists to create test suites for smoke, regression, auto and acceptance testing based on most valuable user journeys of solution end user.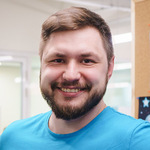 Konstantin Semenov
Lead Business Analyst, EPAM Systems
Eight years of analyst practice. Had a chance to look at Software Development from the end user, customer and dev. team points of view.
Teacher in EPAM business analysts school.