A brief history of Cloud – A container story
Programming / Tools
Cloud
ENG
Accepted
Discover the reason of the evolution of the Cloud from IaaS to CaaS.
How Kubernetes, the leading opensource containers orchestration tools, has became the engine of the hybrid cloud.
How it helps to control, secure and govern your deployments.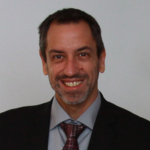 Franck Descollonges
IBM Developer Advocate Europe, IBM
Franck Descollonges is a IBM Cloud Developer Advocate. He is in charge of exposing developers to innovative technologies from IBM, available on its cloud platform.
He is focused on solutions related to hybrid cloud to enable faster development of creative ideas.
Previous experience in IBM covers various responsibilities in the fields of service-oriented architectures, corporate social networks and digital experiences.