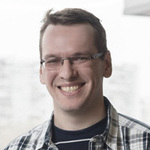 Denis Silakov
Senior Software Architect, Virtuozzo
10+ years of experience in software development automation. Durince the last 4 years – Senior Software Architect in the Virtuozzo company, responsible for development infrastructure. Participates in several Open Source projects, part-time Associate Professor of National Research University Higher School of Economics, Faculty of Computer Science.
Actively presents processes and technologies used in the company in periodic journals ("System Administrator", "BIT", "Linux Format") and conferences (OS DAY, Conference of Free Software Developers, "Free Software in High School"). Gave talks on SECR in 2012-2016.
Automated Method for Collecting Optimal Set of Log Files for Crash Reports
AI, Intelligent Apps/Things
In our work, we discuss usage of machine learning for optimizing content of crash report to make them contain only files that are really required for analysis of particular problem. To choose proper files, we calculate similarity of function call sequence that led to the problem with a set of known traces. We have successfully evaluated our approach on flagman products of Virtuozzo company and hope that it will be useful for all developers who want to reduce size of crash reports without losing the quality. The work will be interesting for researchers in the machine learning area as well as for engineers dealing with software crash analysis, including either crash trace comparison or log selection for analysis.