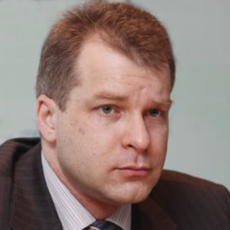 Alexey Korablev
President, Concern R-Pro
Chairman of the Board, Creonomyca Cluster
President of Concern R-Pro, Chairman of the Board of the High Technologies and Engineering Cluster – "Creonomyca", Academician of the Engineering Academy, Ph.D.
Ph.D., Academician of the Engineering Academy, Alexey Korablev was born, lives and works in St. Petersburg. He graduated from the St. Petersburg State Marine Technical University with honors in two specialties: management and production technology. He graduated from the graduate school and defended his dissertation of the candidate of economic sciences in the St. Petersburg State University of Economics and Finance. During the period of postgraduate studies, he was engaged in teaching activities and was a member of the academic council. He was awarded a grant of the Russian government for outstanding achievements in educational and scientific activities. He completed an internship at the University of Rostock (Germany).
Alexey actively conducts teaching and research activities and is the author of a number of scientific articles. He is working on a doctoral thesis. He is the Director of the Institute of Innovative Technologies in Business, the Head of the Basic Department of Marketing and Promotion of High-Tech Solutions of the St. Petersburg State Economic University.
Alexey is the president and co-organizer of the Concern R-Pro – leading group of companies in the field of management consulting, system integration, implementation of IT engineering and HiTech.
Alexey has over 20 years of experience in managing large projects of improving management systems, implementing systems for creating digital twins and production robotization in companies such as: Kuka, Visual Components, Delfoi, CAD / CAE / CAM – Tribon, Foran, Unigraphics NX, PDM / PLM – Teamcenter, ERP – SAP, MS Business Solutions AX, etc. Managed projects for building corporate management systems, optimizing and reengineering business processes, implementing IT solutions in companies such as Energomash Group, United Shipbuilding Corporation, Pallet-Trade Holding other.
Chairman of the Board of Non-profit organization "Cluster of High-Tech Technologies and Engineering" Creonomyca "" – combining leading high-tech and engineering companies and universities in the North-West of Russia for the joint development of business, science and education.
Alexey is included in the expert council for the development of engineering of the Ministry of Industry and Trade of the Russian Federation. Coordinates the work of the Cluster and the project offices of the Governor of St. Petersburg "Smart City" and "Factories of the Future".
Chairman of the meeting of the founders of the ANO "Engineering Assembly" – a non-profit organization, a professional association of directors and heads of engineering and technical services of the largest enterprises and organizations of various industries.
Alexey speaks English and German. Member of the USA Project Management Institute (PMI, USA), managing partner of the Russian representative office of the international company Juran Global.
Creation of digital twins of robotic productions and innovative offline programming of robots in paradigm of Industry 4.0
AI, Intelligent Apps/Things
IoT
Creation of digital twins of robotic and automated production
Simulation and optimization of production processes in the paradigm of Industry 4.0
Analysis and increase of capacity utilization, pro-active management of robotic production
Offline programming of robots and automated equipment
Experience of real cases of HiTech Cluster enterprises in the domestic industry – automotive industry, shipbuilding, mechanical engineering, machine-tool construction, radio electronics, medical, food production, logistics, retail, etc.
Breakthrough international research in the field of Industry 4.0