158 proposals were submitted for SECR 2019
On the 20th of August SECR 2019 Call for Speakers was closed. The proposals are published on the site.
This year SECR received 158 proposals on talks and workshops. That is how they distributed by the conference topics: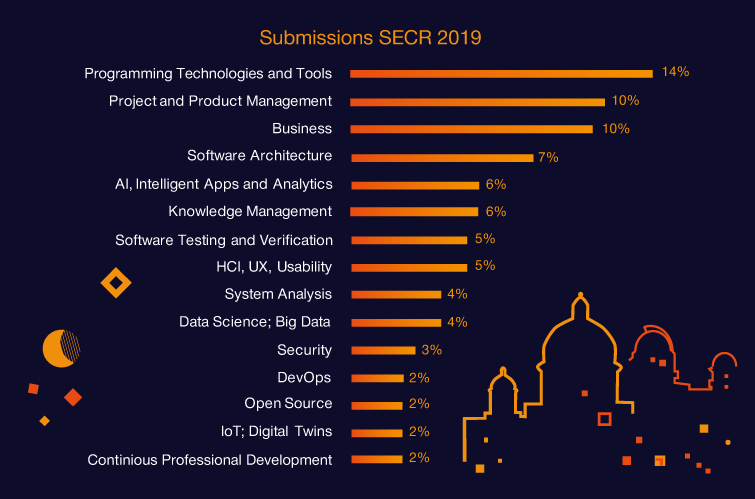 Traditionally "Programming technologies and tools" and "Project and product management" are the leaders.
Curious change – "AI, Intelligent Apps and Things" and "Knowledge Management" among TOP-themes. Looks like we're waiting for a very interesting program this year.
For comparison in 2018 classical issues like programming, management, system analysis, business and software architecture were on TOP, while AI was only on the 14th place. "Knowledge Management" for the fist time was included in SECR scope this year, and at once got popularity among authors.
The conference program is formed on a competitive basis with several stages. The Program Committee, consisting of recognized experts, reviews and evaluates every submission.
At the same time, curators from the conference work with the authors, helping to supplement and edit applications in order to increase their chances to pass the final selection.
The list of accepted talks and workshops will be announced on October 1. After that, the formation of a 2-day conference program will begin.
We remind you that early bird registration (discounts up to 56%) is available till the end of summer.