1C:Enterprise is an EDSL Low-code framework for rapid development of cross-platform and mobile business applications
1C:Enterprise is a suite of software tools for rapid deployment of business applications. It is low-code development platform based on Domain-Driven Design principles (DDD) and oriented on creating software through graphical user interfaces and configuration instead of traditional programming. It makes applications extremely flexible and allows them to be changed in the rhyme of business. Business applications built with 1C:Enterprise are cross-platform (Windows / Linux / macOS for PCs, web apps for desktop and mobile browsers, Android / iOS / Windows for smartphones and tablets), can be run in cloud or on premise and come in open source code.
Peter Gribanov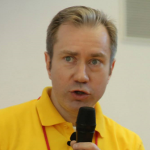 Technology Evangelist, 1C
20+ years in software industry, occupation – rapid application development technologies. Started as an application developer, then changed area to tools and frameworks for biz applications development (i.e. became tools developer for biz applications developers). Grew from developer via systems architect and project manager to R'n'D Director, worked for number of big business software vendors (iScala, Epicor, Microsoft). Now I joined 1C whose development framework I suppose one of the best on the market.