The Amazing Future Begins with Us
AI, Intelligent Apps/Things
HCI, UX
ENG
We are the translators between extremely disruptive digital transformations and those we wish to empower to do their best. We are the difference between everyone soaring to new heights or having a robopocalypse forced upon them. This keynote maps our tech/human relationship in the Era of AI.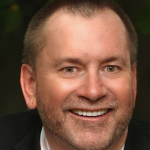 Bill Jensen
CEO, The Jensen Group
Bill is CEO of The Jensen Group, a change consultancy, based in New Jersey, USA. Bill makes it easier to leap into tomorrow. He's an IBM Futurist, helps C-suite execs implement innovation and digital transformations. Bill has written nine best-selling business books, all focused on helping you do and be your best.
Among Bill's clients are Merck, Pfizer, GE, L'Oréal Italia, Genentech, NASA, The World Bank, BBC, Philips Lighting, the US Navy SEALS, the government of Ontario, Singapore Institute of Management, Guangzhou China Development District, and the Swedish Post Office.