Software quality tools
Programming / Tools
Software Testing
This subject is about tools and technologies such as static and dynamic analysis tools, security and vulnerability scanners which helps developers to improve the quality and security of their software and manage some risks.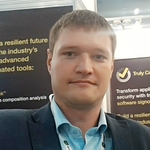 Aleksey Pletnev
Software developer, Bazis-Center
Since 2005 work in Bazis-Center Ltd. Сompany develops CAD BAZIS, the software for automate furniture production. Aleksey creates protection from illegal use for software. He knows the assembler programming language. Also he implants the code quality tools.