In the trap of logic and rationality: how creativity and irrationality help to solve everyday problems
Logic and rational thinking do not always make it easy to find a solution to a problem.
A human has access to a different types of thinking – non-linear, not logical. Creative and irrational, intuitive.
Experts in their fields use this type of thinking. In my report I will talk about who such experts are and how to make the way from beginner to expert, developing my intuition and creativity in solving everyday problems.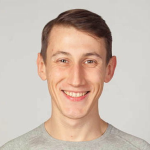 Andrey Baryshnikov
Backend developer, Uploadcare