Pulse Management – how to manage organization
Presentation of the brand new mehtod – howo to manage project organization – Pulse Management. Project organizations – IT product companies with a B2B product, research and production, faces challenges: you must simultaneously run many projects such as R&D (creating IT solutions is R&D) with high uncertainty of content and hard contract terms.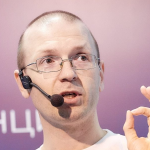 Alexey Vasilyev
Founder, PulseManagement.org
TOC Consultant, Agile / XP coach, specializes in the application of the Theory of Constraints for project management and IT projects. Coordinator of the St. Petersburg Club of IT Project Managers.
More than 20 years in IT. As system architect, team lead, project manager. I've rollup Agile / Extreme Programming since when it was not yet a business (since 2002).
I've consolidated my experience and analysis of current project management methodologies in the management methodology of the project organization in the face of uncertainty and limited resources of PulseManagement.org and the BIPULSE decision support system.
Actively speaking since 2015: SECR, AnalystDays, LAF, ISDEF, RIT++, InfoStart Education Event