Minimum Valuable Product in test automation through the business value prism
Software Testing
Project/Product Management
Accepted
Defining the boundaries and implementation of MVP in software development and wider, in any real sector projects, seems one of the most self-explanatory steps, and nevertheless we're regularly neglect base step while starting automation, moreover, we can't even give a definite explanation, what is automation MVP. In the report, we are giving a definitions and minimum full pack of information about Automation MVP through the business value prism. Material will be useful for the widest circle of listeners: QA specialists, lead developers, project managers and IT sales.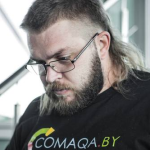 Anton Semenchenko
Manager, EPAM Systems
CSO, DPI.Solutions
Co-founder, COMAQA
Founder, CoreHard
Co-founder, InterIT
Anton Semenchenko – co-founder / activist of communities COMAQA.by, C/C++ and lower COREHARD.by, IT specialists who relocated to Minsk InterIT.by, co-founder of DPI.Solutions company, manager at EPAM Systems. More than 17 years of IT experience, main specialization: automated testing, low-level development using C++ and lower, management, trainings, sales.