Leading the Transformation – A Day in 2030
AI, Intelligent Apps/Things
IoT
ENG
Vito Di Bari has premiered this keynote in Davos at the World Economic Forum 2019. It's a talk about how the emerging tech will change the way we will relate and work in the future 10 years. It's not just about technology, it's about a new world of opportunities driven by emerging technologies.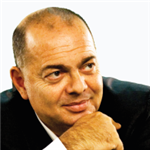 Vito Di Bari
Vito Di Bari is a professional keynote speaker. He is the only keynote speaker who has given a TEDx Talk in five world continents.
He has also served as Executive Director for the IMI Institute of United Nations' UNESCO in Paris and as Innovation Designer of the World Fair Expo 2015.