Kubernetes-cluster management via telegram bot
Programming / Tools
DevOps
In the report I will tell about our experience of using a telegram bot for monitoring and managing a cluster deployed on kubernetes.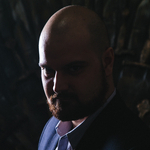 Zurab Belyi
Team Lead, Reksoft
More than 10 years of experience in IT and software development. Extensive experience in designing, planning and developing client-server applications, including web and mobile applications, maintaining technical documentation.
Experience in managing a team of developers, planning and distribution of tasks. Great experience in speaking and presentations, incl. international conferences. Supervising and tutoring within corporate internship program.