Retrospective dysfunctions – symptoms, treatment methods, prevention
Project/Product Management
"One day each team faces situation when retrospective goes wrong and is not so effective as previously" – this is my observation after 100 conducted retrospectives. If you have task to do retrospective as a teamleader, manager or scrum master, and notice that smth wrong with this event, but don't know what exactly, you are welcome to my speech. I would be glad to share my conclusions and experience.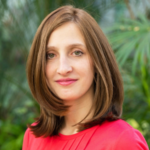 Svetlana Bolsunovskaia
Scrum Master, Agile Coach, T-Systems
I started my career 8 years ago with the classic project management, worked as PM for several years, Then I joined company Agile transformation ( from Waterfall to SAFe) as a Scrum Master. Since that time, I've been working with the teams as a Scrum Master(I worked together with 10 teams from huge IT companies, such as Motorola, Arcadia, T-systems.
In T-Systems company I'm acting as Agile Coach and internal trainer for several topics: Agile / Scrum, SAFe, Scrum Mastering. I really enjoy business simulations and games, so I populate and conduct such activities as LEGO for Scrum, Nexus ZOO, SAFe CIty.
I regularly spoke at different conferences such as SECR, Agile Days, Agile Kitchen.